About the Book
En ces temps inusités, nos sociétés occidentales habituées à un contrôle tout puissant, aussi bien sur les humains que sur la nature ont dû jongler avec l'incertitude. De changement en changement, nous avons évolué dans un monde inattendu…

En laissant libre cours à mon intuition créative, j'ai découvert une force de vie, une résilience authentique, en écho aux femmes et aux hommes qui ont choisi de laisser émerger une dimension inconnue, bien cachée de nos vies…

C'est un réel message d'espoir qui s'est manifesté tout au long de la création de cette collection. Son authenticité et sa cohérence s'imposent dans le poème que forment les titres des oeuvres.
Features & Details
Primary Category: Fine Art
Additional Categories Poetry, Arts & Photography Books
Project Option: US Letter, 8.5×11 in, 22×28 cm
# of Pages: 44
Publish Date: Aug 09, 2022
Language French
Keywords

Art expressionisme

,

Poésie

,

Peinture abstraite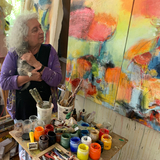 Artiste autodidacte, depuis maintenant une quinzaine d'années, elle explore l'amalgame de pigments dans un geste libre de l'abstraction picturale. Comme les couleurs et les mots dessinent sa réflexion, Véronique Besançon développe une recherche artistique qui utilise l'intériorité personnelle pour tenter d'en comprendre la complexité humaine. Elle crée des univers qui établissent un dialogue entre ses personnages. Ils reflètent des lieux, des moments présents, des lâchés prises, développés sous forme de début d'histoires, faisant ressortir l'essence humaine. Elle documente son parcours artistique par des recueils où se mêlent peintures et poésies.