Neil's Big, Beautiful, Boisterous Band of Backyard Beasts
by Neil Tubbs (The Nature Dude)
About the Book
There's a rustling in the bushes ... Are you brave enough to find out what's in there? If so, read this book! It's full of facts and fun, all in one, about our abundant backyard visitors. Now hop to the reading, and let your adventure begin!

Neil the Nature Dude has created a beautiful book celebrating the biodiversity of his very own backyard. Neil presents fascinating facts about over 175 different species with his characteristic humor and enthusiasm. The text is accompanied by color photographs and Neil's own illustrations.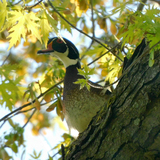 My nature-loving son Neil and I started a project during the early days of the pandemic, in which we observed and learned about all the wild creatures that visit our backyard. With my photography and his drawing and writing skills, we created "Neil's Big, Beautiful, Boisterous Band of Backyard Beasts." This year, Neil continued the project, and we are happy to present the second edition, which includes 25 additional species!