Breathing to Hustle
by Mitak Ahmed
This book may be found in online bookstores, like Amazon.com, using the ISBNs below:
Hardcover, ImageWrap ISBN:
9798210625182
Hardcover, Dust Jacket ISBN:
9798210625175
Softcover ISBN:
9798210625168
About the Book
At 7 I knew I was going to be someone big, I knew I was going to be a big deal. I just didn't know what I'll be doing or how it will play out. To be honest, I didn't care, I was too hungry to notice what plate I needed to eat from. I just wanted good food. A few years later I realised waiting around for someone to cook me some food was hopeless. I have to do it on my own, so at 14 I decided to cook my own food. I don't know why but for some reason I've always been on a different level. My thinking, my attitude and my energy have always been different from everyone.

So you want to know about grinding and hustling huh? Ok, Let's see if you're up for it.
Features & Details
Primary Category: Business & Economics
Additional Categories Self-Improvement, Inspiration
Project Option: 5×8 in, 13×20 cm
# of Pages: 108
Isbn

Hardcover, Dust Jacket: 9798210625175
Hardcover, ImageWrap: 9798210625182
Softcover: 9798210625168

Publish Date: Sep 01, 2022
Language English
Keywords

hustle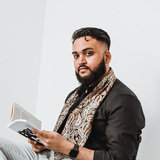 I want to help the world before I go. I want to inspire and motivate anyone that may need my help. I have more books coming soon!