Juddy Wonders What To Do About Baggy Pants
by Janine Gleason
About the Book
On Monday, six-year-old Juddy decides he does not like school because his teacher wears baggy pants. After reading about two unusual animals, Juddy's imagination runs wild. What is his teacher hiding under all that cloth? On Friday, a big surprise changes everything!
For early readers, ages 6-9.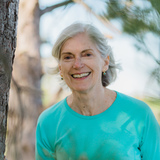 Raised on a dairy farm in rural Wisconsin, I have lived as an adult in cities large and small. After retiring from my professional life, I discovered that I love to write stories! When I'm not writing fiction, I can frequently be found in my kitchen or a swimming pool. My husband and I divide our time between Portland, Maine and Madrid, Spain.