About the Book
The catalogue features the artist's hyper-realistic paintings and drawings from 2011 to 2021.
Text in Italian and English.
Features & Details
Primary Category: Fine Art
Additional Categories Catalogues, Arts & Photography Books
Project Option: Large Square, 12×12 in, 30×30 cm
# of Pages: 124
Isbn

Hardcover, ImageWrap: 9798211777095

Publish Date: Nov 24, 2022
Language English
Keywords

condrò

,

hyperrealistic

,

condro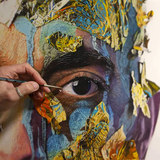 Marco Condrò was born in Siracusa, Sicily, in 1974. His passion for art began at the age of six, when, in addition to drawing, he began painting. His artistic education started at "I Liceo Artistico" Art College in Rome, followed by Accademia di Belle Arti, Rome's Academy of Fine Arts, where he graduated, with honors, in 1998. His works belong to public and private collections in Italy and abroad. In 2016, one of his works was acquired for the permanent collection of Catania's MacS Museum (Sicily Museum of Contemporary Art). In 2018, 2019, 2020 and 2021 he was selected as one of the finalists of the ModPortrait International Portrait Competition and his works have been consequently exhibited in Zaragoza and at the MEAM Museum in Barcelona. Among his latest exhibitions, "The great masters of international realism in the 20×20 format" at Palazzo Einaudi, Chivasso, Italy (2020-2021). He currently lives and works in Rome.