About the Book
When the world is introduced to a man who can seemingly do anything and who offers to help humanity, an unlikely outcome occurs — he's ignored. One young student sets out to find out why, but soon realizes that he has much more to learn about himself before he can begin to learn about the mysterious man. Throughout the satirical and sometimes cynical dialogue between the ostracized teacher and the curious student, questions about life's purpose and the meaning of fulfillment ultimately result in a renewed outlook on the paradigms that make up our everyday lives. Though the questions presented may never be answered, they encourage us to challenge our contrived norms and to continue our pursuit of understanding.
Features & Details
Primary Category: Literary Fiction
Additional Categories Religion & Spirituality
Project Option: 5×8 in, 13×20 cm
# of Pages: 302
Isbn
Publish Date: Dec 09, 2022
Language English
Keywords

Philosophy

,

Adventure

,

Self-Growth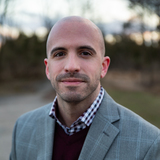 Nick earned his undergraduate degree from Lafayette College, where he double majored in Government and Law and International Affairs. He then completed his Master of Science in Education from Saint Joseph's University. Between these life milestones, he found himself in some careers that no doubt provided him with a lot of material to inspire upcoming stories. But it wasn't long until Nick discovered his current passions for teaching high school Social Studies and coaching Cross Country and Track and Field. For as long as anyone has known him, Nick has been interested in telling stories. Throughout his life, his curiosity has led to many obsessive explorations into whatever topics piqued his interest. But what would Nick say are his favorite stories to tell? When faced with this question, he would tell you that his best stories are the ones that come from his childhood memories and the historical events he shares with his students.