Nesting journals Parachute dreams and other random flights
by Susie LaFond
About the Book
This is the third edition of the author's Nesting Journals series. A collection of daydreams and wishes tossed onto the backdrop of Susie's colorful musings. The collection features pages from her many visual journals that she has kept over the last 25 years. Each book in the series can stand alone and each has its own varied slice of pages featured within.
Please kindly settle yourself back and enjoy the views.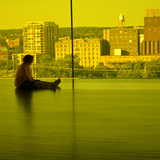 I am a mixed media artist living and working in the Minneapolis area of the Twin Cities in Minnesota. I have been slinging paint and stitches for over 25 years. My work has been featured in many national magazines as well as other published works with other authors.