About the Book
What i Know Of Me . . . is a retrospective self-discovery about growing up in the 1950s imprisoned by an inability to speak. She struggled in silence, forming misconceptions about herself that haunted her well into adult life.

She goes beyond the superficial, delving deep into those early years. She shares insights with hopes of exposing the cause of her speech impairment. The question as to why she faltered has remained a mystery — until now. Join her as she tells her story.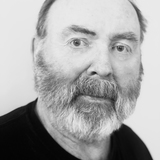 Neil Garvie's background includes twenty-five years teaching in reserve-inner city-suburb-ACTAL schools in Saskatchewan. His early writing experience was largely as a curriculum writer for SaskEd and his many professional articles in the areas of curriculum and instruction. (He has a Ph.D. in Curriculum Theory.) Neil has also written various magazine and newspaper articles addressing human rights and environmental issues. Besides his academic and philosophical background, Neil has been known for his love of kids and an off-the-wall sense of humour. Sadly, Vascular Parkinsonism forced his early retirement. In the last few years, Neil has discovered his poetry and story writing voice. He is presently a resident of Vancouver Island. Carol and her husband Neil live in Comox Valley on Vancouver Island where they enjoy hiking at Goose Spit Regional Park — sometimes catching a glimpse of kite-boarders jumping whitecaps on a windy day.