The Celebration
A Photographic Tribute to Four Decades of An Icon
by Clee Images
About the Book
Elevate your photography collection with this stunning oversized coffee table book, measuring 13x11 inches. Each page is printed on premium paper and finished with a matte coating, giving a rich and luxurious look.

This photographic project was born out of a spontaneous and creative idea between Clee Images and model Teresa Lynn. It all began when Clee Images commented on one of Teresa Lynn's Instagram photos, suggesting that she looked like she could be on an album cover. They joked about recreating a famous album cover together, and the idea quickly took off.

After going back and forth with ideas, they settled on doing a creative photo shoot in tribute to the iconic pop star Madonna. They put together photo sequences that people would recognize as Madonna, but with their own unique spin on things. The result is this stunning collection of images that capture the essence of Madonna's style and persona, while also showcasing the talent and creativity of the two collaborators.
Features & Details
Primary Category: Arts & Photography Books
Additional Categories Coffee Table Books
Project Option: Large Format Landscape, 13×11 in, 33×28 cm
# of Pages: 32
Isbn

Hardcover, Dust Jacket: 9798211407428

Publish Date: Mar 28, 2023
Language English
Keywords

photographer

,

cleeimages

,

madonna

,

photography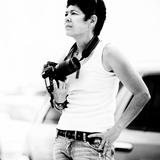 Clee Images is a talented and highly regarded photographer known for her distinctive and edgy black and white photography. Her unique style is characterized by a blend of creative and documentary photography that captures raw emotion and tells a compelling story. Clee's forte is her ability to see beyond the obvious and capture the essence of her subject. Her work is easily recognizable among those who know her, and she has been published in various publications around the world. What sets Clee Images apart is her commitment to capturing the soul of her beliefs in her photography. She believes that the way she sees and feels is reflected in her creativity, and it is this connection to her work that makes it so powerful. Those who work with Clee describe her as easy-going, fun, and highly creative. She has a knack for putting people at ease, which allows her to capture candid and authentic moments that others may miss.