Paradise Lost?
A Tubby and Guinness Adventure
by Brian Beninger
About the Book
Tubby and Guinness are called upon to investigate the relationship between industrialization and the environment during Victorian times. This adventure takes them from the coal mines of Wales to the paradise of the South Pacific. What they encounter can be most shocking.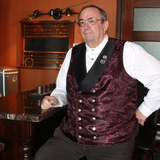 A great-grandfather and retired software publishing entrepreneur, Brian now enjoys creating the kind of fantasy and adventure stories of his youth. His work is highly visual and graphic novel in style and often features serious themes pertinent to today's challenges.