Pink Fink Photography
Ocean Imagery of the Pacific Northwest
by Carly Giles
This book is available to buy on Amazon
About the Book
Carly Giles, enamored by the ocean since childhood, has finally taken the plunge (literally) to follow her dream of being an ocean photographer. This mini photo book is just a small example of some her work.

With stunning photographs that bring you into the chilly waters of the Pacific Northwest, you'll love Carly's unique perspective of this beautiful planet that we call home.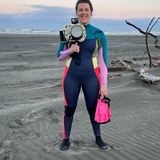 I'm a surf and ocean photography located in the Pacific Northwest, primarily Grays Harbor County, Washington. I do photo sessions as well as sell high quality prints!