Mode Survival
Ebook
Whatever it Takes
by R.C Pryce
This is the price your customers see.
Other versions of this book
About the Ebook
Living was easy, actually.., it was damn easy, now that's all changed. Living has become harder, a lot harder and now depends on who you have to kill in order to survive. A terrorist attack of mass destruction has left North America crippled, with devastation like no one has ever seen before. Power, roads, bridges, rails and communication has been cut off to millions of people. One family in southern Alberta has joined together and are doing whatever it takes to survive this ordeal. Join them, as they forge ahead to the foothills of the Rockies to start a new life.
Primary Category: Action / Adventure
Version Fixed-layout ebook, 274 pgs
Publish Date: Dec 15, 2019
Last Edit Oct 25, 2020
Language English
Keywords

camp

,

survive

,

war

,

mystery

,

homestead

,

drama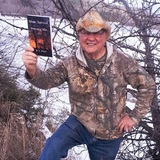 RC Pryce has been a logger, trapper,hunter, fisherman and an outdoors man for many years. He has lived in the bush with his family without power, running water and telephone in the Cariboo region of British Columbia.