The Beast Beside Me
SOFTCOVER
by Sarah Kilgallon
About the Book
The Beast Beside Me is a surprising look at dogs in action. This premium fine art book has over 30 dynamic black and white photos that explore the grace, mystery, and the wild nature of our canine best friends.
This is a Limited Edition with dustjacket only available through Blurb.

This is the first book in her series, Fine Art of Dogs, and offers an intimate perspective of dog's in action.

Sarah Kilgallon has photographed dogs for over 20 years throughout the US, Costa Rica, and Portugal. Her work is featured in Willow Creek Press calendars, Bark Magazine, and on permanent display in Boston Children's Hospital, Boston, MA.

*For every book sold, I'll be donating 5 $/€ to Buddy Dog Humane Society in Massachusetts, USA and Lisa is Supporting Animals in Portugal.

*After purchase, please contact Sarah Kilgallon via email to receive a handcrafted thank you notecard.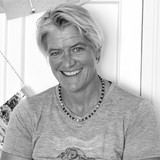 I am a photographer, writer, painter, and a mixed-media artist. I live and work in Lisbon, Portugal and frequently work in the Boston, Massachusetts area. I am dedicated to creating artworks that sustain emotional intensity and truth. Connections to others and our world is paramount to my personal and artistic life. My work has been published in Bark Magazine, Wild Roof Journal, The Ekphrastik Review, Lily Poetry Review, Willow Creek Calendars, and featured in Monica Uhm's music video, "Anthem." Featured in Lensculture Editors Choice, Kolaj Magazine, Cafe Nero, St. Katherine's University "Pandemic Art Lessons," and U. Mass Dartmouth "We Are Contagious" exhibition. Permanent exhibition in Boston Children's Hospital, Boston, MA. Current exhibition in Salta Restaurant, Lisbon