Little Dragon and Her Imaginary Sam
by Bee Waeland
About the Book
Little Dragon has a bestie named Sam, who only Little Dragon can see. The pair can't help getting into trouble or making a mess when having a lot of fun. With a big hug as an incentive, will they ever learn to tidy up after themselves?

This book was made for my nephew Jack and our family. It's about the imaginary friend his mum, Sam, had as a child. It was devilishly fun to write about how this imaginary friend and Sam would get into trouble and to use the word 'pyromaniac' in a children's book!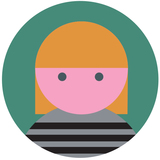 Bee is an illustrator and graphic designer based in Edmonton, Alberta. Her style is graphic and bold, with modernist and art deco influences. She is the owner of Vivid Print, a shop on Whyte Ave that offers local archive prints and artwork. Two of her children's books, "The Three Bears and Goldilocks" and '"Gretel and Hansel", have been published by Orca Book Publishers.