About the Book
I, a superior thinker, offer you, a less knowledgeable individual who needs to give me money, words on, oh I don't know, something, something.
Features & Details
Primary Category: Quotes
Additional Categories Religion & Spirituality, Poetry
Project Option: 5×8 in, 13×20 cm
# of Pages: 232
Isbn

Hardcover, ImageWrap: 9798211787216

Publish Date: Nov 21, 2022
Language English
Keywords

philosophy

,

Woods

,

Travis

,

/ʌnˈnəʊn/

,

Unknown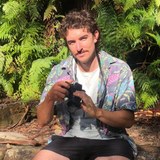 Hello, my name is Travis, although that's simply an arrangement of lines and a sound I've familiarised myself with that humans make to get my attention. What I mean to say is that I'm something happening here, wherever here is, if anywhere, and very much like you. It may not appear that way. After all, we're separated. Although, underlying that perception, engulfing our entirety is the same source that comprises all. You discover that within love, for love is realising oneself in another. But anyway, look at us here, together - hilarious. It's comical because it's nonsensical. It's a big wow, followed by a booming laugh, perhaps a few tears, then a warming smile. That's life. That's us. And if you're afraid, know it's okay. You can squeeze my hand, for I'm right beside you, embodied in these words, energetically in this realm. It's a wild trip, but I believe wherever we're going, whatever is happening, we'll end up back home, together.