Hilton Head Island
Landscape Photography
by Larisa Crockett
About the Book
Hilton Head Island, SC has a lot to offer for people of all ages as a family vacation destination.
Some people would come here once and will keep coming again and again as it has a tendency of making the vacationers fall in love with this place.
For beach lovers it offers one of the best family beaches in the US. Come here early and enjoy the sunrise, walk your dog, go for a jog, or take a bicycle ride; come here in the evening and be carried away by the colors of the sunset!
World-class golf courses, tennis courts, racquetball courts, bicycle paths are all there for you to enjoy yourself and find the activity to your liking.
If you are not into active vacation, relax on the beach or by the pool soaking up the sun, or just take a stroll in the shade of the quaint green alleys!
Hilton Head nature and subtropical climate make the island popular almost all the year round.
More than 250 restaurants, cafes, and farmers' markets will satisfy tastes of any good food lovers and connoisseurs.
The sequence of the beautiful Hilton Head landscapes does its job and gives you the opportunity to travel without traveling!
Give this book to your friends and family and let them get inspired to come to this magical place in the Atlantic.
Bring home memories from the unforgettable places of the island you have been to, and relive them again by just flipping the pages.
Enjoy!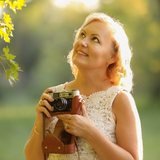 Dear friends, welcome to my bookstore! Here I offer you to travel without actual traveling! Isn't that wonderful! Photography is an amazing tool for that! Go on different trips around the world with me! If you have been to any of these places, my books will remind you of the great time you have got to spend there, you can revisit those places by just flipping the pages or share them with your friends and family! May be they will put this or that destination on their Bucket List!? If you plan to go to any of these places my books can serve as a nice visual target you are about to reach or a pictorial guide. Besides these books can be used with therapeutic purposes creating a positive psychological effect on brain which helps in healing and also has a calming effect on those in need. The sequence of beautiful landscapes does its job. Enjoy! Yours, Larisa.