About the Book
I never imagined a time like this, when the surreal became the real. When an invisible enemy invaded the world, like the ones in apocalyptic sci-fi movies I refuse to watch, spreading fear and devastation across the planet. I needed a creative way to use this quarantine, having so much time to contemplate and give meaning to this moment and how to record it in my memory. People are suffering, but birds are singing louder and skies are more blue all over the world, as nature takes a breather from mankind's abuse — that's the yin and yang of this time.
As I look for inspiration, I turn to a source that never ceases to lift me — New York City's art world. The full-page images used in this book belong to my Winter Gradient print series, an ode to long northeastern winters, an annual reflection on the passage of time. The smaller images are from walks to and from museums or photos of exhibited artworks from one of my trips to The Museum of Modern Art, The Guggenheim, or The Whitney Museum of American Art.

Features & Details
Primary Category: Arts & Photography Books
Additional Categories New York, Street Photography
Project Option: US Letter, 8.5×11 in, 22×28 cm
# of Pages: 24
Publish Date: Dec 15, 2022
Language English
Keywords

Zine

,

Art Book

,

Abstract Art

,

New York Art World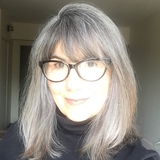 Marina has always loved print, holding a book or a magazine in her hands, the smell of ink, the texture of paper — so much so that she spent years working as a designer in the publishing industry. As the line between work and play thinned, she began spending most of her free time on creative projects involving both visual + verbal content, examples of which you may find below.