About the Book
HB,10x8 60 pages,/ How far would you go if your best friend Died? Well, I went all the way, to the other side to find her again. Pick up a few gifts from God.
All my life growing up, I have seen Ghosts, Angels, Orbs etc. I feel they had foreknowledge of my future. All those sightings of the spirits, they were all pushing me to this point in time. Where I found the power to help me, to cross over to the other side, to visit a female friend that died.

I heard a guy on the radio selling a book on commanding your soul to leave your body. Through performing Kundalini Meditation, which done right, would be the beginning of Astral Projection. I bought that guy's book on Kundalini meditation. When done right, it will open your 3rd eye, connecting you to the Spirit World. Well, that's just what I did.
! found her, plus thousands of other past friends and Animals that died in 2007.

Every night after work, I would Astral Project my soul to be with her again. I spent about a year with her there, exploring everything I could. Later. I said my goodbyes to her. I figure I had my closure; I could get on with my life. Wow Was I wrong on that one? I thought the 3rd eye bit was a onetime shot to the spirit world, I did not know it cannot be turned off.

I Could not understand it was a two-way street with spirits. Once that door is open, it awakens all the Gods.
I did not know it was a life changing event, with all these Spirits. Later I figured out how to take their pictures. They were so pleased with me, they made me a Stigmata, I was crowned with an invisible crown of thorns. Now I am being told I am a Hybrid Alien /my next life I will be the Fallen Angel. Why? Well, more about this all Plus stories of my Soul Mate, taking possession of my girlfriend's body to be with me again. In my first Book UFO and Aliens Photo Book.


Features & Details
Primary Category: Religion & Spirituality
Additional Categories Inspiration, Entertainment
Project Option: Standard Landscape, 10×8 in, 25×20 cm
# of Pages: 60
Isbn

Hardcover, ImageWrap: 9798210673039

Publish Date: Nov 19, 2023
Language English
Keywords

Demons

,

Aliens

,

ORBs

,

Ghosts

,

Church

,

Angels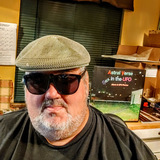 I am a very curious person, I tend to stick my head into the wrong place. That's probably why they picked me. I have seen and been around UFOs all my life. What I mean about that, when I was a 6yr old kid, I used to live next door to a huge Research Laboratory Facility. I would ride my bicycle around the Police Escorted, Army Flat bedTrucks that were delivering the UFO sitting on their trailers. I even saw an Orange acorn style UFO on a trailer. There were a lot of them going in and out of that facility. I saw a lot of UFOs flying over the Research Laboratory Facility. 50 years later, My girlfriend died, I pushed myself to go and find her in heaven,with Astral Projection, were my soul can leave my body and search for her. Later I figure out a crude way to take a picture of the UFO that followed me around. The Aliens showed me a better way. I wonder what they have in store for my next adventure?